We (the kids and I) have been talking about getting a puppy for a while. At Jon and Beth's Labor day party we saw the neighbor's dog, a Cavachon, and fell in love with it. Cavachons are two different kinds of dogs that I've never heard of put together (Bichon Frise and a Cavalier King Charles Spaniel) and are supposed to be great from everything I've read and everyone I've talked to. They don't shed and only get to be about 18 lbs. I'm a huge fan of our current dog Riley, who is a half golden retriever, half yellow lab mix at about 50 lbs.

We searched for breeders, and settled on the same one Jon's neighbors had gotten theirs from in Missouri. The puppy is 5 weeks old and we will be getting her in about 4 more weeks when she's old enough to travel and be separated from her Mom. This is what they look like full grown: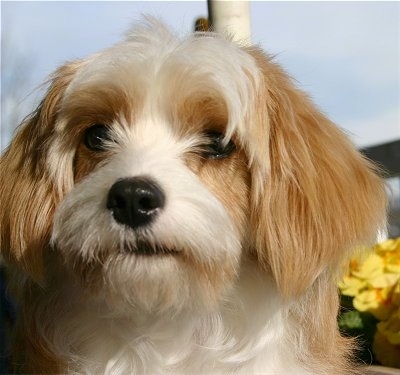 We haven't decided on a name. Most of the real cool names Nate and I have come up with (Achilles, Thunder) don't fit a dog this size or a girl. Cathie likes Rosie, Emily likes Goldie - but we really haven't decided. Any suggestions?