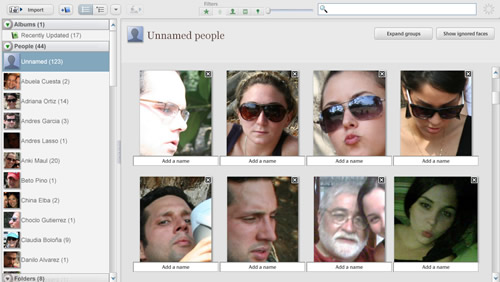 I installed
Google's Picasa 3.5
photo editor/manager about three weeks ago. The big new feature in 3.5 is that it has facial recognition and tagging, which previously had only been available via the Picasa Web Albums, but not the desktop client.
Picasa starts going through your pictures and extracts all of the faces in like sizes and has you start to tag similar faces. From there, it will start to identify groups of faces below a certain confidence level and let you confirm whether it's the correct face to person match. The more you do, the smarter it gets.
Once you've got your pictures tagged, you can search by combinations of people and events. I could search for pictures of my Mom and I, or find vacation pictures of Cathie. When you look at a given photo album, it will show you everyone in that album, allowing you to go directly to that individual. I've used iPhoto, and I like this more. The cool thing iPhoto allows that this doesn't is syncing to your iPhone by person, instead of just by album.
I've got over 50k pictures, and about 200,000k faces across those pictures. I'm amazed at the way it identifies and pairs them up with the correct people. It does well across ages, profiles, lighting and picture quality.
My biggest problem is that I've become addicted to tagging the pictures. It presents these to you in small groups as it identifies them, silently taunting you to "just tag the next group of pictures", at which point it presents you with an entirely new batch of faces. The other part that makes it fun is being able to go through old pictures and see how people have changed. Check out
this link
to see a collection of about 3,500 headshots of Madeline that I made just for fun.